Save license costs through an individually set up Authorization Concept and Business Roles
26.02.2019
To use SAP Business ByDesign, you pay monthly fees for your users. These costs vary depending on the number of licenses and license types. We often noticed that our new customers do not know the number and types of licenses they need, or that they have thoughtless requested a certain number of different license types. This results in unnecessary license costs, which you pay monthly. In order to avoid these unnecessary costs, we would be happy to sit together with you and discuss an authorization concept with you.
Three Birds with one Stone!
The objective of this authorization concept is for you to know exactly how many license types you need and thus only pay for what you actually use.
At the same time, you set up a concept that precisely documents which user has which access rights to the work centers. From a compliance point of view, this is the best way to protect yourself if you have an auditor in-house. In addition, the role concept simplifies the assignment of access rights when hiring new employees. Instead of laboriously and unknowingly selecting and ticking off the individual views for the user, you can use the role concept to simply select the respective role for the user and assign it to him. The user then automatically gains access to all work centers that are important to him or her.
How to implement?
In a personal discussion, we will go through the individual departments of your company and list the employee roles that exist there. Then we take a look at the tasks that arise in your company. Using a basic table, we create the basic concept by ticking which task is to be performed by which role.
As soon as the basic table is ready, the tasks can be translated into "ByDesign language". Since SAP Business ByDesign uses its own terminology, it is often not easy to find the right views.
In the system, we create business roles based on the roles in your company. A business role includes a set of access rights to work centers and subviews that you can assign to multiple application users performing similar tasks.
After all business roles have been created and activated, the users can be assigned to the roles. Even if you hire new employees, you can assign them directly to a business role.
Once all users have been assigned to the business roles, you have a clear overview of the number of licenses and license types that are actually needed. You can adjust your license agreements accordingly and save costs.
Let the numbers speak!
Here you can see the before and after result of one of our customers (The first column shows the licences types, the second column shows the monthly costs per user per month in €, the third column shows the current number of user and the fourth column show the future number of user). You can see that we could reduce the monthly license costs from 11.758€ to 4.925€. There is a saving of almost 7.000€ which are roughly 8.000 USD.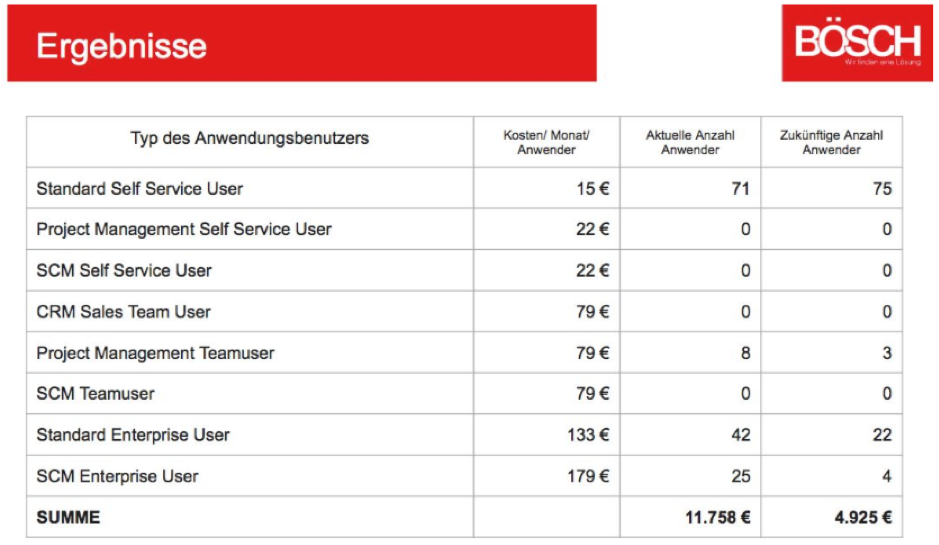 Have you ever had a look at your licenses?
Go to the "Service Control Center" work center in the "User Subscriptions" view. There you can see the number of licenses and license types you actually use.

Think about whether this is really necessary and whether some of your users can use a cheaper license type.
Then get in touch with us. Together we will determine the optimal solution for your company!
Back to overview