SAP Business ByDesign as an App
14.08.2016
This gives you convenient access to your data anytime and anyplace
As cloud-based software, SAP Business ByDesign can be accessed conveniently from all mobile end devices. That allows you to use the on-demand solution for small and medium-sized companies very easily, thereby giving you access to your data at any time or place. As usual, this is available in real-time and in various language versions. Above all, field service staff in Sales and in Project Planning appreciate the user-friendly flexibility allowing them to do their work while out of the office.
The option of using SAP Business ByDesign as an app is available for all Apple iOS and all Google Android users. The apps can be downloaded for free from the relevant stores. As soon as the app has been installed in the required device, diverse functions will be available to the user.
Some functions include:
Customers, contacts and activities can be created and managed directly.
Access to all contact and communication data.
Logging expenditures and working hours.
Required approvals (e.g. for orders) can be issued.
Checking product availabilities.
Calling up invoices.
Monitoring key performance indicators.
Reports can be viewed.
SAP SE has redesigned the interface specially for mobile work, allowing the app to be used without any problem while keeping a clear overview of all business processes.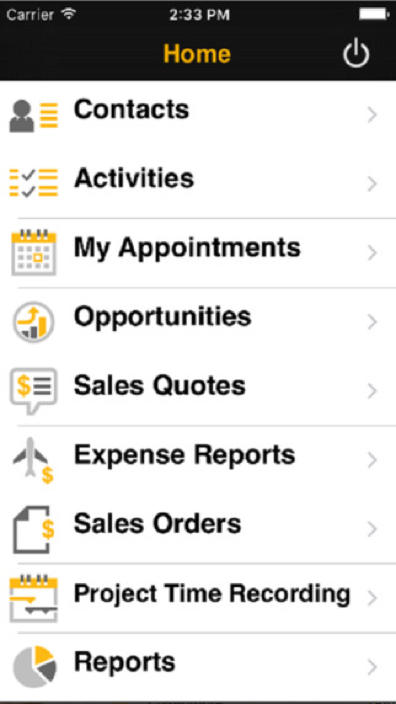 Homepage of the SAP Business ByDesign App
SAP Business ByDesign on iPhone and iPad:
The apps developed by SAP SE for iPhone and iPad are available via iTunes. The current version for iPhone is 13.02.28 and requires 17.7 MB of memory. For iPad, the current version 13.02.10 is 21.2 MB in size.
To enable access to all business data in the app, we point out that valid login data to a SAP Business ByDesign Feature Pack 3.5 or higher is required. The IT Department also has to activate the mobile services.
The apps are very user-friendly and intuitive. The SAP Business ByDesign functions can be coordinated and implemented smoothly. You are only restricted when it comes to the reporting functionality. To be able to access all reports, SAP has developed a separate app. This goes by the name SAP Business ByDesign Dashboard App and is so far only available for iPads.
SAP Business ByDesign on Android devices:
The apps developed by SAP SE for Android smartphones and Android tablets are available via the GooglePlay Store. The current version 13.11.13 is 1.2 MB in size. The Android version required for is 2.2 or higher. Here too it is pointed out that valid login data to a SAP Business ByDesign Feature Pack 3.5 or higher is required and that access to the mobile services via user administration is activated.
Experience has revealed that the app is somewhat more difficult to use on Android devices than on iOS devices initially, as some functions are concealed and so difficult to find. Likewise, there are also individual functions that are completely absent in the Android version. This includes the project time logging, the expenditures settlement, parts of the Receivables Work Center and test options. Nor is it possible to create customer orders as follow-up actions to new business or opportunities. In just the same way as for the iOS apps, the functionality for calling up and analyzing reports also needs improving in the Android app. An alternative app for Android tablets has not yet been developed.
Conclusion:
Despite a few flaws, the SAP Business ByDesign App offers all important functions you need to work productively via your mobile. SAP is endeavoring via a continuous improvement process to keep the app user-friendly and regularly bring out updates for this. In future too, Sales and Project staff who frequently have to travel will come to appreciate the convenience of customer or project data that can be recorded quickly.
Back to overview