Grouping products by Product Groups in SAP Business ByDesign
24.09.2019
Product groups help to group products that are very similar or belong together, in order to then carry out forecasting, planning, production and warehousing tasks across products. Responsibilities for specific groups can also be clearly transferred to employees. This makes them helpful whenever there are many products in the company that can be viewed together in the planning steps mentioned. 
Group Categories:
You can use the Product Groups view in SAP Business ByDesign to assign products to groups. These product groups can also be arranged in a cross-process productcategory-hierarchy. SAP differentiates between four different group categories.
Forecasting groups – This allows you to use product groups to create forecast requirements. In addition, statistical forecasts can be carried out at group level instead of individual product level.
Planning groups – These groups are assigned to a planning area. You can use the groups to select production and order proposals. You can also assign planning groups to individual sourcing planners, which clearly defines the area of responsibility.
Production groups – Production groups are always location-based. They are used to distribute production tasks for products in a group to production planners.
Storage groups – These groups are also location-based. They can be used together with destination determination rules to determine storage locations for the products. In addition, the groups can be used as a restriction by defining that a storage location may only store products of a particular group.
Create Product Groups:
To create product groups, choose the work center "Planning and Production Master Data".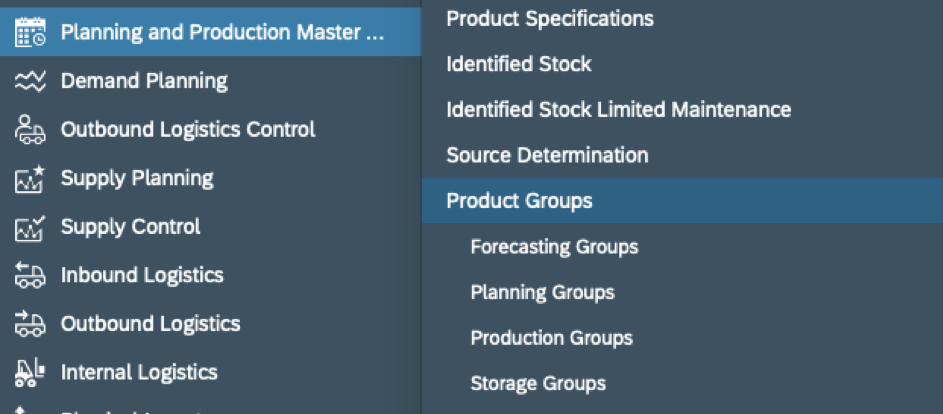 Here you can select the different group types and add new subgroups to them.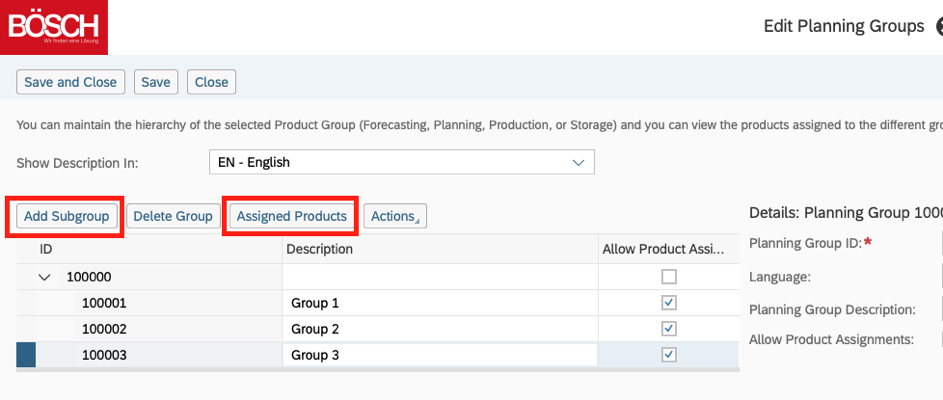 Then assign the desired products to the subgroup.

The products are now assigned to the groups and can be viewed together when it comes to carrying out planning steps.
If you are unsure whether product groups are suitable for your company, do not hesitate to ask Bösch for advice.
Back to overview