Chinese Tax Rules "Golden Tax" in SAP Business ByDesign
06.03.2018
Chinese tax rules:
Every country has its own typical tax rules. China has its own tax system, too – the Golden Tax System or "Jinshui" or "Fapiao" as it is also called. Tax rules in China pretend that each invoice that a company writes has to be registered in this Golden Tax System. The Golden Tax System was drawn up by the Chinese Tax Bureau (CTB) and helps to register and monitor all a company's invoices and then identify the precise amount of value added tax.
Implementation no problem for Bösch!
If you intend to implement SAP Business ByDesign for a Chinese company or for a Chinese subsidiary, a discussion of the topic Golden Tax will be unavoidable. Integration of the Golden Tax System is a MUST if you would like to do business in China. You are not allowed to use your own invoice formats and submit these to tax offices when tax-relevant processes are involved. We at Bösch already have experience with this subject, as we have various customers based in China.
Golden Tax in SAP Business ByDesign:
SAP Business ByDesign offers a special work center view, which assists the simple and correct processing of Chinese tax claims. This work center is called "Golden Tax Invoices".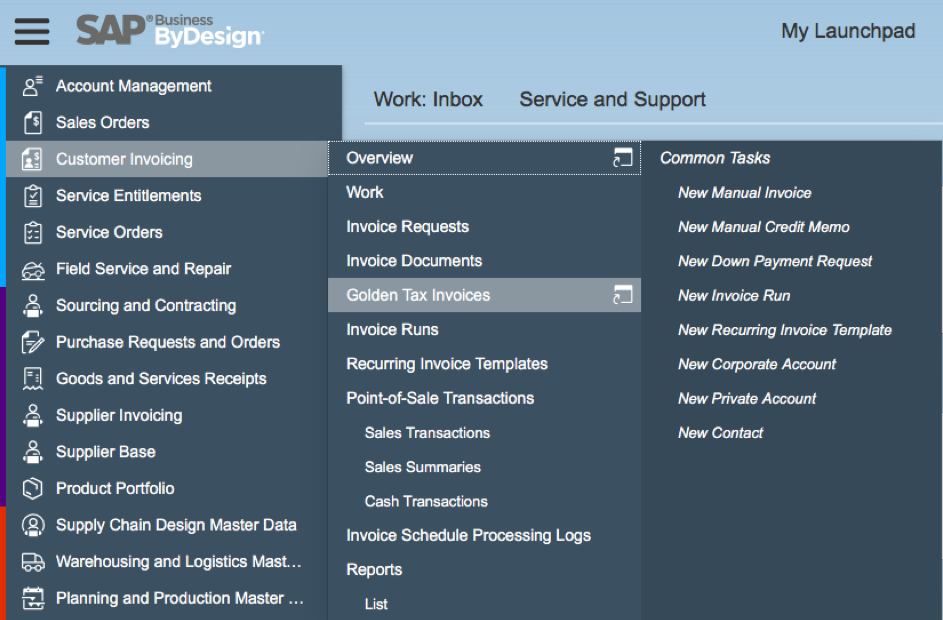 To be able to see this view, you need to have selected China as a country in your Scoping. In addition to the work center view, the Customer Invoicing view also contains a button you can click on so that invoices can be marked explicitly as Golden Tax Rule invoices. Here you can see this button:

Golden Tax in the overall context:
You create a Sales Order in SAP Business ByDesign and go through the usual processes up to the customer invoicing. If you company is obliged to send the customer invoice to the Golden Tax System, you need to mark the relevant invoices in your Customer Invoicing view and click on the "Golden-Tax-Relevant" button described above. Once the invoice has been marked as "Golden-Tax-Relevant" it is blocked for accounting. You cannot do any financial follow up processes while the invoice is blocked. It cannot be posted.
It is now necessary to send the invoice to the Golden Tax System. Now you have the option of downloading the invoice from SAP Business ByDesign and then uploading it to your Golden Tax System. The invoice is assigned an uniquely identifiable number within the Golden Tax System. The invoice is consequently in the system and registered for the Chinese Tax Bureau / the Chinese State. The number assigned there can then be imported to SAP Business ByDesign. Importing the ID means you have all important data saved centrally and at the right location in your system. The invoice can then also be finalized, as the ID is available – thereby ensuring that the invoice is registered in the Golden Tax System. Once the invoice is finalized, the invoice status changes to "Completed". The invoice is then again usable for financial accounting.
Golden Tax is no obstacle for SAP BusinessByDesign!
As you can see, the issue of Golden Tax can be covered in SAP Business ByDesign. You don't need to worry about whether you can use SAP Business ByDesign for your company in China or your subsidiary in China. If you're still skeptical, then feel free to contact us! We'll be pleased to tell you about our customers in China and how they deal with the Golden Tax Regime there.
Back to overview