Enter multiple email addresses in SAP Business ByDesign
18.12.2018
With the new release, there are new features in output management. One of the most demanded features is the entry of several email addresses as recipients. This means that it is now possible to set specific recipients for a particular business document in the customer master.
Finally you can define multiple recipient email addresses!
For this purpose, go to the customer master data and go to the tab "Communication" "Collaboration". Here you can select the output channel for each business document. If you select "E-Mail" there, it is now possible to specify several recipients and additionally the possibility to set recipients in copy or blind copy.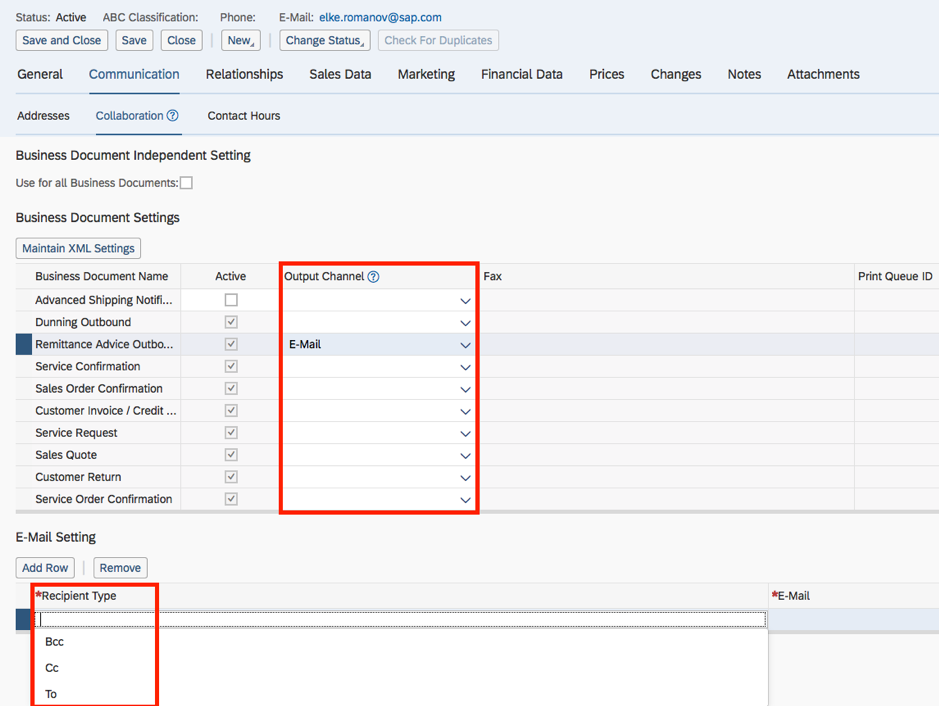 Entering several Output Channels
If you not only want to send an email to the customer, but also want to print the business receipt automatically, the system now also supports this. In the "Output Channel Selection" view in the "Application and User Administration" work center, you can select several output channels for each business document and also organize the sequence according to your preferences.
Flexible sender addresses
In the "Output channel selection" view, you can also create an email address for each business document. The screenshot now shows the example for the customer invoice business document. You can enter the sender email address manually, or use the general address of the organizational unit or company.

The demand has been answered!
Before the release, only one email address could be stored in the customer master and in the output settings. This annoyed many customers, who wanted to send invoices to several email addresses instead of just one, for example. SAP has now responded to customers' requests and, with Release 18/11, has implemented the option of sending business documents to several email addresses.
Back to overview