Demand Planning in SAP Business ByDesign – Basics
27.08.2019
Demand Planning is a multi-level operational process of supply chain management to create reliable forecasts. When planning is performed efficiently, it can improve the accuracy of forecasting sales, align inventory levels based on peak values and lead times, as well as improve the profitability of a product or sales channel.
Important steps in requirements planning include, in particular:
Importing historical sales data
Creating the statistical forecast
Importing customer forecasts
Cooperation with clients
Overview of supply and demand
Manage forecasts and create consistent planning from them
Create forecasts:
The whole thing is based on statistical forecasts, coming from the sales orders, customer contracts and intercompany orders. SAP Business ByDesign also provides various forecasting models for this purpose:
average
moving average
weighted moving average
linear regression
seasonal linear regression
simple exponential smoothing
simple exponential smoothing with optimum
linear exponential smoothing
seasonal exponential smoothing
Croston procedure
Optimization procedure
Whether you have a top-down or bottom-up approach to forecasting, ByDesign supports both. With the ability to look up the sales history for up to four years, you can easily create your forecast. In this screenshot you can see the ByDesign planning board for this sample product.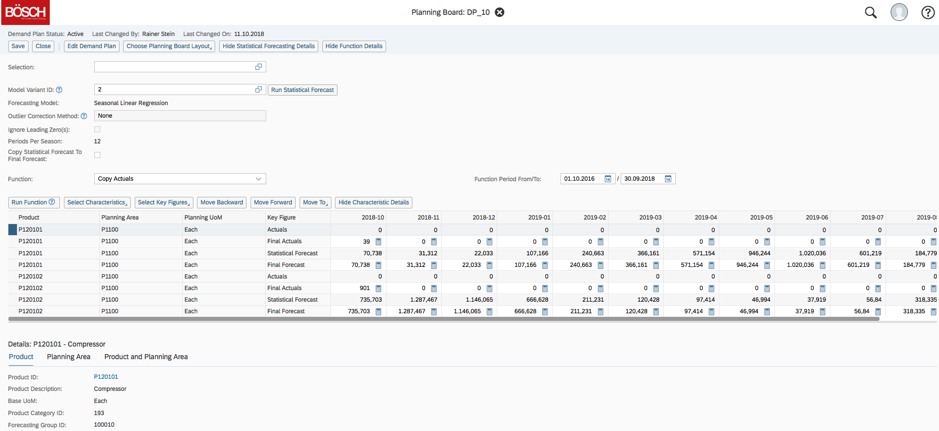 The "actuals" is the actual consumption figures generated directly by the system, whereas the "final actuals" allows you to optimize the figures used for creating the statistical forecast. The statistical forecast is the forecast calculated by the system, and the final forecast shows the final figures released for purchasing or planning and execution.
All the data must be constantly checked again in order to adjust the planning on the basis of this.
Proper management of demand information has a direct impact on external customer relationships, internal procurement management and inventory levels. So if customer demand is the initiator of the supply chain, reliable demand forecasting is essential to improve supply chain effectiveness.
Are you curious about how to start forecasting demand? You can read all about it in the upcoming blog post. If you have any questions until then, please do not hesitate to contact us!
Back to overview